Matt the Miller's Tavern is located in Gemini Place at Polaris Parkway. Sharing space with Destination XL and sitting directly in front of Earth Fare, Matt the Miller's restaurant is in close proximity to Polaris Fashion Place, Costco, Cabela's and the many neighborhoods and businesses that call the Polaris area home.
*Closing hours will change when 10pm last call mandate is lifted.
Carryout & Delivery Also Available
Learn How We're Keeping Our Guests & Associates Safe
We're Open on Thanksgiving Day!
11am-5pm
Reservations are required.
View Menu
Holiday Gift Card Sale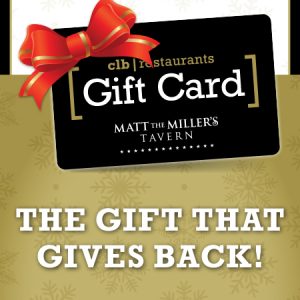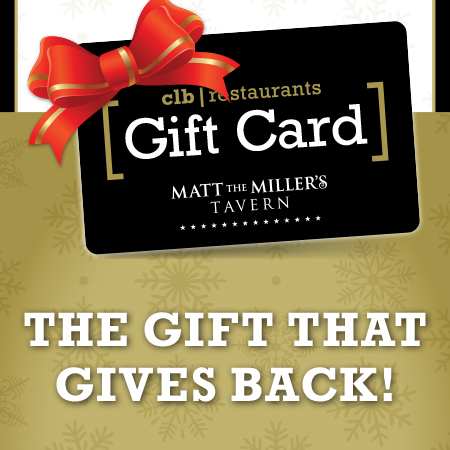 Enjoy a $25 bonus gift certificate* for every $100 gift card purchase made in-store or online between November 28 – December 31, 2020.
Shop Now
*Bonus gift certificate valid 1/1/2021-4/30/2021. Valid for food purchases and dine-in only; alcohol not included.
---
Offering an upscale tavern atmosphere, Matt the Miller's features a chef-driven menu of tavern favorites, but with a unique twist. From our Original Flatbreads, to our fresh seafood and steak selections, we offer our guests the finest and freshest ingredients available made-to-order by our culinary team.
In addition to offering our guests a comfortable atmosphere and delicious food, we are passionate about beer. We have 26 taps of draft beer, including a constantly rotating inventory of craft beer. And we love to showcase beers from local breweries such as Seventh Son, Columbus Brewing Co., and Four String Brewing Co. We also have extensive wine, cocktail and spirits lists. Whether in our bar or dining room, Matt the Miller's is a high-energy restaurant where people can enjoy family, friends and good times.
See What's Happening at Matt The Miller's Gemini Place location.